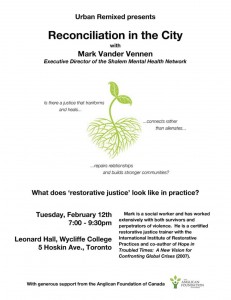 Urban Remixed presents
Reconciliation in the City
with Mark Vander Vennen
Executive Director, Shalem Mental Health Network
Tuesday, February 12 @ 7.00 p.m.

Leonard Hall
Wycliffe College
5 Hoskin Ave., Toronto
For more information contact: brian.walsh@utoronto.ca
What does 'restorativejustice' look like in practice?
Mark is a social worker who has worked extensively with both survivors and perpetrators of violence. He is a certified restorative justice trainer with the International Institute of Restorative Practices and co-author of Hope in Troubled Times: A New Vision for Confronting Global Crises (2007).