DIRECTIONS
Campus Ministry Phone: 647-854-1318
Address: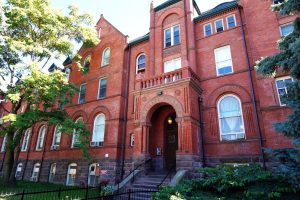 Toronto, Ontario
M5S 1H7
Click here for Google Maps.
How to get to the Campus Ministry Office:
From the front entrance (off Hoskin) go up the stairs, straight through the lobby and down the hall, down the stairs to the right, straight through the double swinging doors, turn right, and our office will be the first door on the left (look for the sign on the door, or an open door)
How to get to Church of Redeemer (for Wine Before Breakfast):
From the front entrance (off Hoskin) go up the stairs, turn left in the lobby and head down the hallway past the bulletin boards. Walk all the way down the hallway, down a small set of stairs, and turn right before entering the cafeteria. Follow the smaller hallway as it turns left, and walk to the end. The chapel will be the open door on your left.
---
ACCESSIBILITY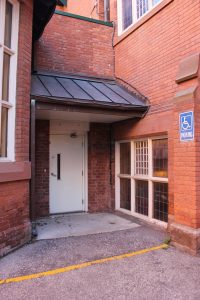 Wycliffe has an elevator entrance available for those with accessibility needs. In order to access the elevator, turn off Hoskins Ave onto Tower Road. There is a small alleyway on the left that leads to the West Parking lot within Wycliffe. At the far east end of the lot, there is an elevator door with a button beside it. Press the button, and the Wycliffe staff member working at the front desk will come and assist in the use of the elevator.
In order to get to the chapel for Wine Before Breakfast on Tuesday mornings, ask the staff member to take you to the main floor. The chapel is in the far east section of the building, which requires a second small lift to access. Again, the staff member will be able to assist in the use of the lift. CRC staff members are also trained in the use of the elevator and lift, and can be called at the number below. 
In order to get to the office on for Graduate Christian Fellowship on Thursday evenings, the elevator must be used to go to the basement. From the elevator, turn right and head through the big doors. You will see the entrance to the CRC office in this hallway.
There is an accessible bathroom next door to the CRC office.
One parking space for those with accessibility needs is available adjacent to the elevator entrance in the West Parking lot.
If any problems arise, call the Wycliffe front desk (open at 7am on Tuesday mornings and until 8pm on Thursday evenings) at 416-946-3535 or the CRC office (from 6:30am to 10:00am on Tuesdays and 5:30pm to 9:00pm on Thursdays) at 416-596-2439.