Christian Reformed Campus Ministries seeks to challenge, mentor, and enable students to think, work, and live as Christian disciples in the academy and in their professions. Rooted in the confession that all truth is in Christ, we seek a radical Christian discipleship in all of life.
Wine Before Breakfast
Tuesdays @ 7:22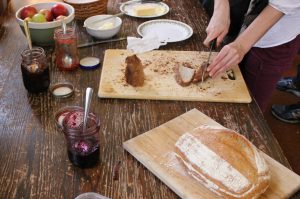 am A weekly early morning Eucharist service in the Wycliffe College chapel. Rich liturgy, creative music, provocative preaching and the celebration of communion followed by a breakfast of home baking, preserves, juice and organic fair traded coffee in the chaplain's office. Click here for more information, and/or visit the WBB Facebook page.
Thursdays @ 6:00p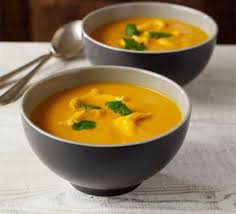 m A community of people who meet for food, reflection, and mutual encouragement in the CRC campus ministry office at Wycliffe College. We eat together, pray and read scripture, listen to each other's stories, hear guest speakers, and engage in wide-ranging and deeply probing conversations. Click here for more information, and sign up for the weekly newsletter.
Pastoral Care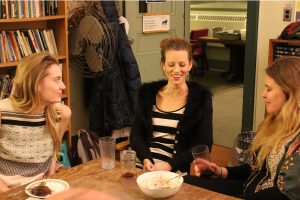 Any of our staff team would be happy to meet with you individually to discuss personal concerns or issues that you are dealing with. Contact any of us via email to arrange a time for a confidential conversation.
Faculty Fellowship
A monthly lunch gathering of Christian faculty for conversation, fellowship and prayer. For more information about this aspect of CRC's ministry at UofT, contact Geoff Wichert.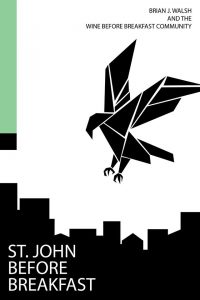 Teaching and Resources
Dr. Brian Walsh's teaching at UofT is integral to our vision of campus ministry, along with several other resources and learning opportunities that we offer to the communities. To find more information on what is currently available, click here.
The Living Justice Project
During the summer of 2017 our ministry teamed up with the Community Counts Foundation, Citizens for Public Justice, and Resonate Global Mission to commission "The Living Justice Project." Two researchers, Becca Sawyer and Courtney Reeve, were sent into the city of Toronto to discern where the Spirit of God was moving for justice. They tell the story of their three months of discernment in the report that you can find here.
Interested in making a tax receiptable donation to the UofT CRC Campus Ministry? We would love your support. More information can be found here.
---
SPECIAL EVENTS