You can watch the event via youtube: Brian Walsh's Retirement and 70th Birthday Party – YouTube
The following is the liturgy for the service: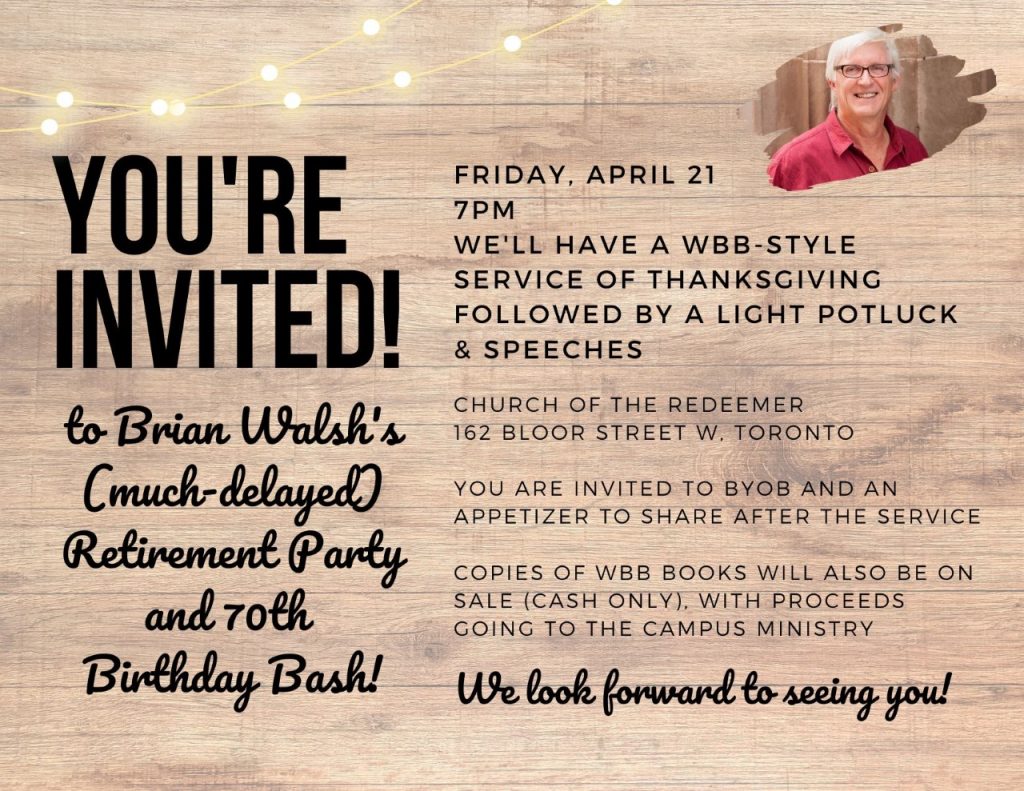 The Christian Reformed campus ministry past and present is delighted to co-host Brian Walsh's long-awaited and much-delayed Retirement Party. And we're throwing in a birthday bash to make the event more fun!

When and Where 
7 p.m. on Friday, April 21 at Church of The Redeemer (162 Bloor St. W) 

What to Expect
A Wine Before Breakfast – style service of Thanksgiving followed by a Light Potluck and speeches.
You are invited to BYOB and an appetizer to share after the service. 
There will be an offering taken with proceeds going to the campus ministry.

Who is Invited
All current and former participants of Wine Before Breakfast and Graduate Christian Fellowship, along with supporters and friends of Brian Walsh and the campus ministry. 
 
Books!
We'll have copies of A Sort of Homecoming: Essays Honoring the Academic and Community Work of Brian Walsh, as well as Habakkuk Before Breakfast and St. John Before Breakfast available for you to purchase, with proceeds going to the ministry.  
We hope you can make it!

Living with hope,
Brenda Kronemeijer-Heyink, CRC Campus Minister,
on behalf of the campus ministry committee and staff